About Us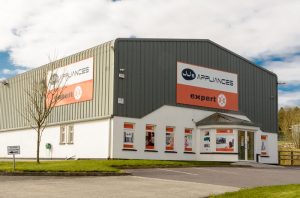 2019 this was the year we made huge changes in our store, we did a full revamp increasing our display by 50%, now we have a great selection of products to offer our customers like washing  machines, dishwashers, fridge freezers, cookers, hobs, tablets, computers, phones, watches, audio, televisions, heating products, coffee machines and microwaves etc.   
Another addition to the business was a new lighting store, this opened in November 2019 and gives our customers another great reason to deal with JJs Appliances as a one stop lighting and electrical store to cover all goods in your home from a table lamp to ceiling light to cooker to laptop, We have it all at JJs Appliances Expert Lighting & Electrical.  
2015 we joined Expert which are a leading appliance group that have 7400 stores in 21 countries. We find since we joined this group it has been fantastic as we have great value for our customers everyday, they have great support with Expert and being part of the brand is a massive advantage to our store.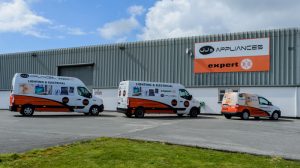 2013 we moved to a much larger unit, we built a 10 bay test centre, we now hold a good stock of all parts for appliances. We had a much larger display with a great choice of Electrical Appliances and computers to choose from.  
2010 we branched into repairs. We found this a fantastic asset to our business as we understood the appliances & computers better. We found also it was great for our customers as they didn't have to wait or deal with any other company to service their appliances.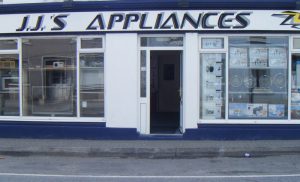 JJs Appliances has been trading for over 15 years, we opened our doors in 2007 in a small store selling appliances, televisions and computers. This is where the journey began & we are very proud of the journey to date. 
Call into our store and see for yourself, our fantastic team of experts are in store to give you the best sales advice and customer support.  
---
NEW SECOND STORE IS OPENED
---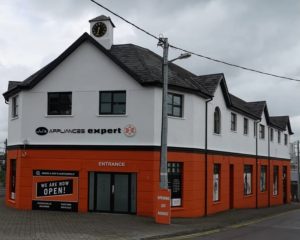 On of 1st of August 2023 wew were delighted to open our 2nd store in Charleville, Co. Cork. The new store featured brand new state of the art displays, the latest in home appliances and technology and new fully trained stafff members. Exciting new times for JJs Appliances and thrilled to be offering an even better and wider service to our current and future customers!
CALL US TODAY
Kanturk 029 51212 or Charleville 063 69800
Here at JJs Appliances we specialise in full house packages. Whether thats for new builds, new home owners and anyone simply doing up their houses and kitchens because we have it all. Our expert staff offer experienced advice on which appliances will best suit your needs and wants. You can buy your new dishwasher, cooker, oven, hob, washing machine, tumble dryer, hood, fridge, freezer, fridge freezer, American style, small appliances, TV, and even your new coffee machine all from us. Talk to us today and we will gladly help you get set up for your new home. Deposits taken and house packages can held in our warehouse until you are ready ! We deliver nationwide and offer local installation for nearly all appliances. We can also recommend local installers to get you set up knowing everything is installed correctly and working perfectly !
Another addition to the business was a new lighting store. Another great reason to deal with JJs Appliances as a one stop lighting home from a table lamp to ceiling light. We have it all at JJs Appliances Expert Lighting & Electrical.   We have many lighting experts in store and can even arrange a home consultation to figure out what will best suit you for both inside your home and even your garden and driveway  !
Smart Home
We have a comprehensive smart home section now in our stores and online so now you can keep your home up to date with the latest in smart technology, security and lighting helping you take control of your electrical bills because that's the future !